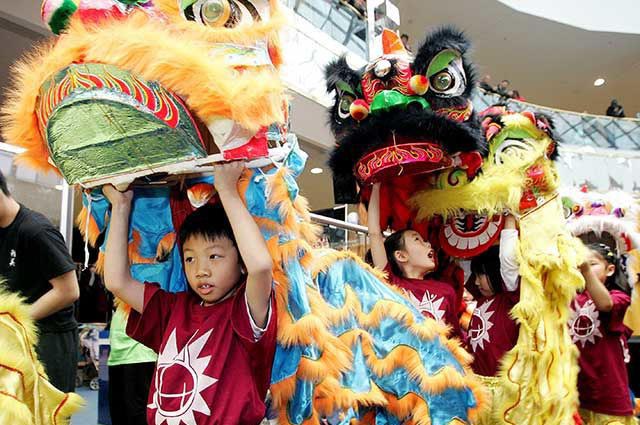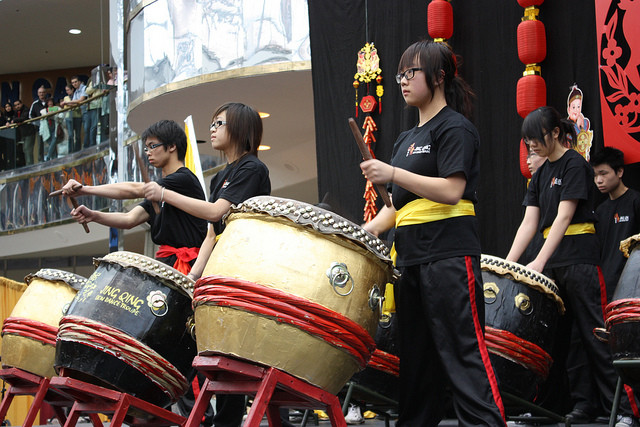 Lunar New Year Extravaganza Sponsorship Package
The Edmonton Chinatown Multicultural Centre (Centre) is a non-profit organization incorporated in 1983 under the Societies Act of Alberta and became operational in 1985. The objectives of the Centre are to promote Chinese culture, encourage cultural exchanges amongst all ethnic groups, and enhance community social welfare.
Traditionally, the Lunar New Year's Eve celebrations were held in the Centre, but the increased interest and the number of attendees over the years had led the organizer to seek larger facilities such as the Shaw Conference Centre and Northlands AgriCom where we had over 10,000 attendees. For the past four years, we held our event in the "Ice Palace" at West Edmonton Mall in Edmonton. It had been a phenomenal success. We had close to 25,000 people who visited the booths or observed from the railings overlooking the skating rink.
Despite inclement weather in the winter months, participants were enthusiastic about attending our event. The media has been very supportive over the years and provided extensive coverage. We wish to invite your organization to play an active role in the 2017 event.
Why should you be our sponsor?
We are a prominent non-profit organization, recognized by the Chinese and Edmonton Community for our track record in cultural events and community services.
Your support will enhance your corporate profile in the Chinese community as well as the Edmonton community as a whole.
Your company/organization will be recognized by the Chinese community and the Edmonton community as a corporate citizen who contributes back to the community.
The extensive media coverage will maximize your company's / organization's exposure to the Chinese community as well as the Edmonton community as a whole.
We invite you and your company/organization to be our sponsor of the 2017 Lunar New Year Extravaganza – Year of the Sheep. Enjoy the many benefits of being a sponsor and promote your products and/or your services to an anticipated number of 25,000 people over two days. Please complete the following sponsorship form and fax the completed form to (780) 426-4430 Attention: Ms. Betty Yu, Edmonton Chinatown Multicultural Centre Or, e-mail us your completed form to:
ecmcc@telusplanet.net
.
Sponsorship Recognition Program
Gold 金贊助 ($5,000.00 to 9,999.00)
Silver 銀贊助 ($3,000.00 to 4,999.00)
Bronze 銅贊助 ($1,000.00 to 2,999.00) ($1,000.00)
Recognition
Recognized as the Gold sponsor in all printed materials, advertising and promotions (name and logo will be in an appropriate and proportionate size that befits the level of sponsorship and  promotional materials)
Recognized as the Silver sponsor in all printed materials, advertising and promotions (name and logo will be in an appropriate and proportionate size that befits the level of sponsorship and promotional materials)
Recognized as the Bronze sponsor in all printed materials, advertising and promotions (no logo, only your name will be displayed in an appropriate and proportionate size that befits the level of sponsorship and  promotional materials)
Advertisement    
A prominent part of our event advertisements in the four weekly Chinese Newspapers; name and logo will be on our event poster to be displayed in the Centre and in the community and businesses starting in December 2014 to the date of event.
A part of our event advertisements in the four weekly Chinese Newspapers; name and logo will be on our event poster to be displayed in the Centre and in the community and businesses starting in December 2014 to the date of event.
A part of our event advertisements in the four weekly Chinese Newspapers;  only your name will be on our event poster to be displayed in the Centre and in the community and businesses starting in  December 2014  to the date of event.
Recognized as the Gold Sponsor two times in the ECMCC radio program.
Recognized as the Silver Sponsor two times in the ECMCC radio program..
Recognized as the Bronze Sponsor once in the ECMCC radio program.
One 8'x 10'skirted display booth with drapes, a table & 2 chairs
One 8'x 10'skirted display booth with drapes, a table & 2 chairs
One 8'x 10'skirted display booth with drapes, a table & 2 chairs
Booth
Display your own banner inside your booth and your Logo on event banner
Display your own banner inside your booth and your Logo on event banner
Display your own banner inside your booth and your Name on event banner
Banner
Officiate the ribbon-cutting ceremony at the Gala Opening
Officiate the ribbon-cutting ceremony at the Gala Opening
N/A
Gala Opening
Presented with a plaque publicly at the Gala Opening
Presented with a plaque publicly at the Gala Opening
N/A
Download the Application: